Like most people, you've been brushing your teeth for as long as you can remember, and have likely gone through hundreds, if not thousands, of toothbrushes over your lifetime. You've seen toothbrush commercials touting the benefits of toothbrushes with a tiny rubber tip on the end to clean between your teeth and toothbrushes that play music to entice your children to brush. If you're old enough, you might remember the Broxodent, the first electric toothbrush introduced in the US, in 1960. Since the introduction of the first "modern" toothbrush in the late 1700s to today's high-tech ergonomic designs, the lowly toothbrush has come a long way.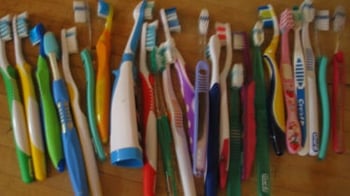 When we think of the word "toothbrush," most of us imagine a manual toothbrush with a plastic handle and a row of nylon bristles. However, since the invention of the electric toothbrush, Americans have a choice between manual and electric. Choice naturally creates a sense of confusion as to which choice might be better. This blog post will give you some tips!
The Benefits of a Manual Toothbrush
No electricity needed
A manual toothbrush will never run out of battery life
When used properly, manual brushes clean teeth just as well as electric brushes (note the phrase, "when used properly," as therein lies the rub)
Inexpensive (and often free from your dentist)
Small enough to easily fit into a travel bag, and available in travel-specific sizes
Portable, folding versions are easy to take to work
The Drawbacks of a Manual Toothbrush
It requires more time and attention to detail to obtain results similar to that of an electric toothbrush
The lack of a timer forces the user to guess at the length of a session of brushing. Most dentists recommend a minimum brushing time of two minutes twice per day.
The Benefits of an Electric Toothbrush
Ease of use: the brush does all the work!
Studies show that it takes less effort to get better results with electric vs manual
Built-in timers make it easy to brush long enough for best results
Because it's easier to use, and even fun, kids (and adults!) will brush more often
The Drawbacks of an Electric Toothbrush
If you forget to keep it charged, it becomes a manual toothbrush
The purchase price is much higher than that of a manual toothbrush
They require more space in a bag than a manual brush
You may need a special attachment to use an electric toothbrush overseas
If you drop it, it might stop working
Although there's little doubt that an electric toothbrush does a great job of cleaning teeth, if you're committed to thoroughly cleaning your teeth twice a day and flossing at least nightly, along with seeing us every six months for an exam and deep cleaning, you have the potential for healthy teeth and gums regardless of your choice in toothbrushes. The challenge is that most people are "quick and sloppy" brushes, making a manual toothbrush a poor choice. An electric toothbrush does an excellent job while the user simply moves the brush around the mouth, resulting in a statistically significant difference in plaque removal. It's the easy road to clean teeth.Now, about your toothpaste…